A Hands-On, Typography-Inspired Workshop in Two Parts



Wednesday, August 15 – Sunday, August 19
Registration Deadline: July 23


Workshop Schedule

PART 1: Drawing Roman Letters
From stone carvings to contemporary typefaces, exploring the evolution of this alphabet and its characteristics through drawing.
Wednesday evening, Aug. 15, 6-9pm
Thursday evening, Aug. 16, 6-9pm
Friday evening, Aug. 17, 6-8pm


PART 2: Brush Lettering
Learning to use traditional sign-painting brushes and paints.
Saturday, Aug. 18, 10am-5pm*
Sunday, Aug. 19, 10am-5pm*

* (with a one-hour lunch break)



[ REGISTER HERE ]




Description


Part One: Drawing Roman Letters
We begin our study by drawing Roman letters, examining the characteristics of this alphabet as it evolved from stone-carving through early printing, to contemporary typefaces, including sans serif letters. We will practice correct proportions and spacing of the letters in words and will complete a "camera-ready" drawing of a phrase of the student's choice, intended for reproduction as a print.

Part Two: Brush Lettering
We will learn to use sign-painting brushes to paint letters in both oil-base enamels and water base paints. We will start by practicing the basic strokes of the classic block letters used for signs and advertising showcards, progressing to the more complex constructed Roman letters we learn to draw in Part 1. Students will explore basic layout techniques and will produce a simple sign.
Tuition:
Participants can sign up for either part of this workshop or – for a significant discount – both parts.

Part One: Drawing Roman Letters - $300*
Part Two: Brush Lettering - $400*
Parts One and Two: $550* (a discount of nearly 25%!)

*Registration fees will cover all necessary materials for this workshop.



Class Size:
Minimum: 8 / Maximum: 12
Materials List:
All required materials will be provided as part of the course enrollment. No additional materials will be required.
Level of Study: All levels are welcome! Hand Lettering – Drawing and Painting Letters is geared toward participants sincerely curious about traditional sign-painting techniques, lettering styles, and typography-based design. Participants will have many opportunities to explore materials and tools unique to sign painting and receive feedback in a supportive classroom environment.




---

LOCATION: All courses are hosted at Manifest's Drawing Center Studios in Madisonville at 4905 Whetsel Avenue (second floor) (see map and direction links below). Manifest's studio facility provides two classrooms totalling nearly 4000 square-feet. The studios are outfitted with professional equipment, furniture, and study aids.

Drawing horses and easels as well as storage shelf space are available on a first-come first served basis. Supplementary seating, including chairs, stools, and cushions is also available. Course participants should provide for their own supplies and drawing board.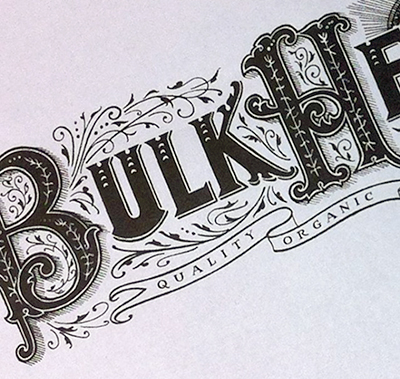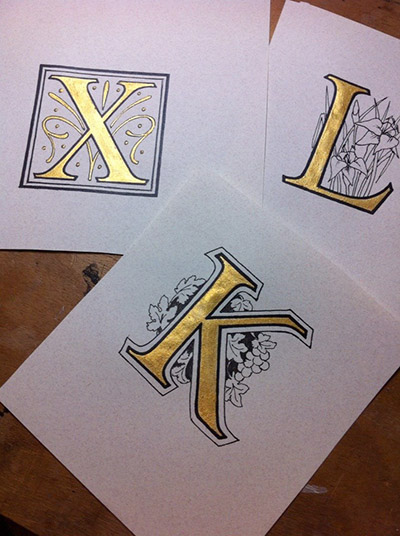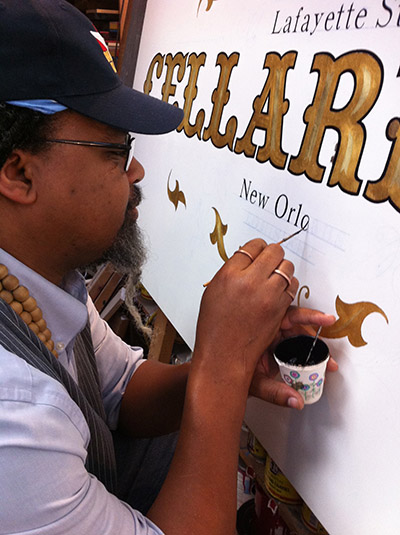 ---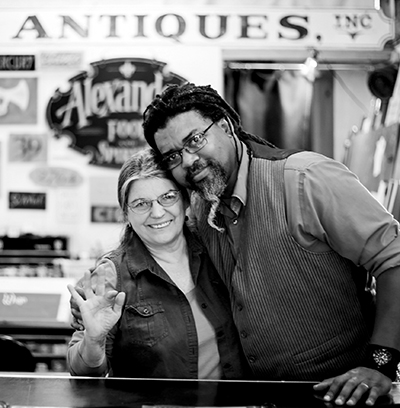 About the instructors: Yvette (Eve) Rutledge and Vince Mitchell have been working together as Mystic Blue Signs for fifteen years. They met while performing in a New Orleans reggae band, where Eve's hand-drawn posters caught Vince's attention. Vince had been primarily a professional musician and student of math and physics, but he had also worked as a fabricator for Seattle sculptor Trimpin, and the challenge of pursuing hand lettering in a digital world drew him into the alluring field of sign painting. Eve has been a lifelong lettering artist, engraver, calligrapher, sign painter, book designer, and typographer, working for private clients from Vermont to California for forty-five years in publishing, advertising, logo design, and commercial signs and graphics. She designed books for University of California Press in Berkeley and taught hand engraving at Cranbrook and Revere Academy of Jewelry Arts. Before establishing Mystic Blue Signs in New Orleans in 1997, Eve was co-owner of New Bohemia Signs in San Francisco. Eve and Vince teach hand lettering at conferences, at Loyola University in New Orleans, and at the Center for the Lettering Arts at Mystic Blue Signs. They still draw all their designs at Mystic Blue by hand; their work is inspired by a synthesis of classic hand lettering and type. They work in metal, wood, glass, paper, and light, and they still make music together.

Website: www.mysticbluesigns.com Instagram: @mysticbluesigns